Matthew Everhart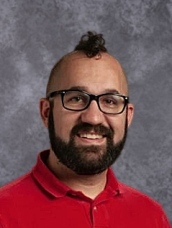 Matt is the social studies teacher at Arcadia. He joined Arcadia in 2015, and teaches 7th and 8th grade social studies, US History, World History, and high school elective courses.
Matt grew up in Anchorage, Alaska and came to Minnesota to attend St. Olaf College, where he graduated in 2008 with a degree in Psychology. He went on to get his Master of Arts in Teaching from Hamline University in 2014.
Matt lives in St. Paul with his husband (also named Matt), enjoys playing tabletop and video games, watching NBA basketball, playing hockey, and taking care of his two cats.